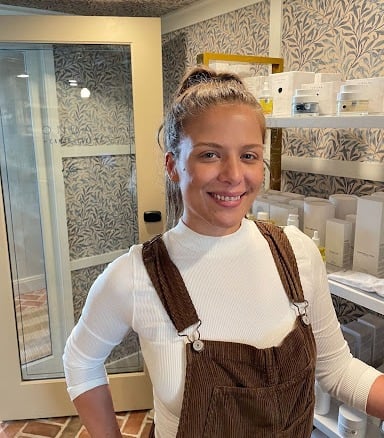 LILY BENNETT was born and raised on the East End of Long Island. She always dreamed about being an esthetician; before, during, and after attending college for health-related sciences. So she decided to attend New York Institute of Beauty to earn her esthetics license. She also pursued courses to be an oncology trained esthetician. Born by the ocean and abundance of nature, the idea of using natural products to enhance skin health and beauty has become Lily's passion. She believes in a focus on overall health and wellbeing for the mind, body, and soul. But what she loves most about her career is the physical connection she is able to make with her clients: facial massage has become her favorite part of treatments.
Book a treatment
Lily's recommendations
This serum is probably the best serum I have tried thus far! The label says it all, 'synergistic duo,' retinol combined with vitamin C makes the perfect dream team. I suffered from acne when I was in esthetics school and my skin was in a constant state of purge. It left me with a face covered in post-acne marks and pigmentation. When I began using this serum, the results were almost instant. Vitamin C goes to work to reduce discoloration and protect skin, while retinol simultaneously improves the overall texture. There are many retinol products out there that leave the skin dry, irritated and more sensitive. This is not the case with this product; I believe even the most sensitive of skin can use it.
This oil was love at first try for me. It works in phases, first nourishing the skin; then as it settles, it begins the second phase that works to protect the skin. It's loaded with vitamins and actives that are naturally sourced from the beautiful Furtuna farm in Italy. Aside from the incredible concentration of ingredients, it leaves a dewy glow that I have never experienced before. I love to use it all over my face, neck and décolleté, especially before a special occasion or night out. The smell is also out of this world. This formula needs a good shake before use to get the best results, and you really only need one drop!
My skincare regime wouldn't be complete without this mist. Its focus is creating and maintaining a healthy microbiome for the skin. We often forget that skin is just as much of an organ as any other vital part of the body. It needs a thriving environment with microorganisms to keep the skin healthy. This mist aids in restoring and balancing our skin's acid mantle while calming any irritants on the skin. The smell is also very refreshing–it's like a trip to the spa in a bottle.
This butter makes it hard to forget the rest of my body when doing my facial skincare routine. The aroma takes me to another place, to paradise. Growing up on the seaside, I am a firm believer that the ocean is filled with healing properties. Besides moisturizing, this body butter gives my skin long lasting hydration, and it penetrates the skin effortlessly so my skin never feels too dewy. This product is great for all skin types, especially those focused on aging effects. Undaria algae is a wonder product gifted to us from earth. I make sure to use it as soon as I step out of the shower, since the skin absorbs product better when wet.
The most important product in my routine! I learned about this sunscreen while I was getting certified in Oncology Spa Solutions. The founder created this brand in honor of her mother, who passed away from skin cancer. It's a beautiful line with a beautiful story behind it. I also have a special place in my heart for eco-friendly products and packaging, which suntegrity implements. Mineral sunscreen is the best sunscreen to use any time of the year, but this one in particular is loaded with antioxidants to fight free radicals, while also protecting skin from harmful UV rays. The product also contains green tea extract, which is a powerhouse ingredient in skincare for any concerns. The subtle fresh orange scent uplifts my spirit to conquer the day.
This has to be my favorite face cream. I'm not sure there is anything this balm can't do. It is loaded with vital nutrients and minerals that heal the skin, while also boosting hydration and tightening the skin's elasticity. The key ingredient in this balm is helichrysum, also known as the immortal or everlasting flower. When this flower is dried, it still blooms and the stalks remain strong against the test of time. In my experience, it has the same effect on the skin. It's as soothing as it smells, just like honey. I especially love to use this product if my skin has been irritated in any way, or after a deep exfoliation.