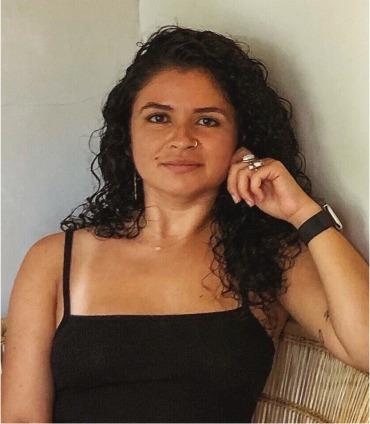 KATHERINE SEQUEIRA has been a NYS licensed esthetician since 2019. Katherine started her career at Onda. She performs treatments using deep massage to help relieve muscle tension in the face as well as sculpting and lifting techniques. She implements a variety of techniques targeted for the most efficient, purifying, and comforting results. Katherine fell in love with gua sha facial fusion, which is a next-level facial therapy that brings about a fundamental change in the skin by clearing stagnation, enabling the renewal of the lymph, activating circulation, and stimulating cell activity and the regeneration of the facial tissue. Katherine relates to treating specific needs for the skin: when she began at Onda, she struggled with cystic acne and pigmentation, but was able to treat both using products she discovered at Onda. This in turn helped create a holistic, healing journey for her body, mind, and skin. Katherine continuously takes time to learn more techniques and healing treatments while also working on the floor at Onda Sag Harbor, helping and connecting customers with product recommendations.
Book a treatment
Katherine's recommendations
This amazing creation is something that I use & recommend constantly. Not only does it work as an oil cleanser , you can use it as a moisturizer, an exfoliator, body cleanser, AND a body oil. I recommend this to skin that is irritated / inflamed / dry etc. This brings your skin back to its natural state. It balances the pH levels in your skin. I start people off with this, once your skin has 'normalized' you can use this as an exfoliator. Every month I use this to "reset" my skin. Though there is a method / science to using this correctly , I am absolutely in love with this product and something I will never go without.
"miracle in a bottle". This amazing oil is one of my go to's. Perfect for all skin types , this oil is packed with antioxidants and potent plant extracts leaving your skin at a healthy state. This oil is amazing for all skin types, but I love recommending this to 'acne prone' skin. This will help heal the skin from underneath without causing any irritation or dehydrating it. It helps lighten up any scarring, I used this to help heal my skin from cystic acne 4 years ago, and to this day I still come back to it. This oil also is amazing for ALL OVER your body , Nails, Skin (face + body), and yes even your hair & scalp.
This blend works as a beautiful calming moisturizer. This helps calm and cool any kind of irritation, redness or inflammation in the skin (almost instantly). The fatty acids, azulene oils, and white clay restores , soothes & heals, balances and brings your skin back to a clear healthy glow.
Another product that I will not go without. This is suitable for all skin types. This product too helped heal my skin. Can be used as a toner, re-balancer, to soothe sunburn, after shave / after wax , heal bug bites , heal acne, eczema, etc. It contains anti-bacterial , anti-viral , anti-inflammatory ingredients as well as potent enzymatic activity resulting in skin cell repair and powerful nourishment to the skin's healing process.
By far my favorite SPF I have ever put on my skin. This spf is not only safe for our oceans but for our body as well. It visibly smooths the appearance of our pores (who doesn't want that). Contains jasmine which is a natural detoxifier and evens the skin tone making it perfect for sensitive skin types. Green tea, calming the skin from any stressors or irritants. And my favorite hibiscus, which is packed with antioxidants protecting our skin from free radicals, helping the skin retain elasticity and have a luminous complexion
Oral Care is super important not just for your teeth, gums, etc, but incredibly important for your skin too. The health of your gums shows on your facial skin too. After adding this to my oral care routine, my gums have never been healthier. It tastes amazing and instantly soothes your gums, You can add a drop of this onto your toothpaste, add a drop onto your floss OR you can massage it into your gums. It contains plant extracts and essential oils, killing any unwanted bacteria that lives on your gums/teeth. Suitable for those with any sensitivities.